About Us
Background history of Securit GB Ltd, Shop4bikers & Shop4truckers.
Shop4bikers.co.uk is run by Securit GB Ltd .
In August 2004 we successfully launched Securit (GB) Ltd, manufacturing motorcycle garages and retailing a small range of motorcycle accessories.
The company has gone from strength to strength over the last 7 years, with a highlight being receiving a Barclays Bank award as a national finalist in the Trading Places competition.
With the accessories side of the business rapidly increasing, we noticed that our customers were constantly complaining that the accessory market in the UK had become stagnant and boring with most retailers only selling the same items. We therefore decided to do something about it and embarked on an exciting new project, Shop4bikers.
We visited the Milan Motorcycle show in 2009 to try and find new products different enough to what was available in the UK.We came across an Italian company called LAMPA (www.lampa.it) .Their ideas were the same as ours, to offer quality, affordable but innovative products.
We are now the distributor for Lampa motorcycle and truck products.
Although we are no longer a manufacturer, we have not forgotten about the need for motorcycle
garages or secure stores and now offer a new range of stores from a partner company.
Shop4bikers are back at Motorcycle Live 2019 after a 2 year absence.
With an unique range of gifts for Christmas!
We now have a completely new range of baby and kids merchandise (motobaby/motokids) all designed and produced by ourselves in England.
Printed by a full-color heat press process using the latest OGI printer & Forever Laser Dark self weeding 2 paper system
From 6 month to 7 years of age, the range includes exclusive design biker t-shirts, hoodies, babygrows, bags and biker bears & much more.
We offer a full customising service for all the items MotoBaby & MotoKids products.
Buy any standard item at the show or pre order any customised product for Christmas or any other special event.
All products will be available at special discounted Motorcycle Live prices.

Are you looking for a new merchandise for your club, company, race team or a tour?
We offer customise adult merchandise for clubs, tours, events & racing team wear.
During the winter months, the team are working to create new merchandise for Eugene Laverty, Steve Parrish, Chaz Davies, Alex Lowes etc.
We are working with a number of motorcycle clubs & companies.
Contact our design team to discuss ideas & after the event create a design & samples.
Shop4bikers don't just print biker t-shirts, we are bikers!
Caroline Moore & Phil Churm with Lampa's export team at the Milan Motorcycle show 2011,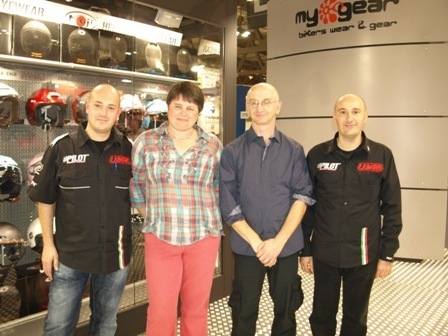 Locate Shop4bikers (Securit GB Ltd) using the Google maps click here.